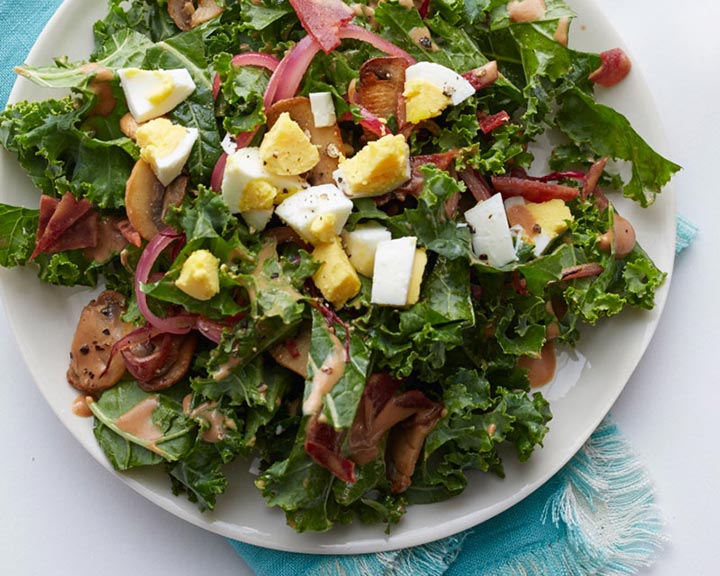 Get more recipes
Kale salad with warm bacon dressing
Total 35 min
Prep 15 min
Cook 15 min
Serves 4
Ingredients:
Uncooked kale

6 cup(s), leaves only, shredded

Olive oil

2 Tbsp

Uncooked turkey bacon

4 slice(s), chopped

Uncooked red onion(s)

1 small, thinly sliced

Button mushrooms

8 oz, thinly sliced

Red-wine vinegar

2½ Tbsp

Dijon mustard

1 tsp

Sugar

⅛ tsp

Hard boiled eggs

4 eggs, large, chopped
Instructions:
Put kale in a large salad bowl; set aside.
In a large nonstick skillet, heat oil over medium heat; add bacon. Cook, stirring frequently, until crisp, about 5-7 minutes; drain bacon on paper towels and set aside.
Reduce heat to medium-low; add onion and mushrooms. Cook, stirring frequently, until softened, about 2-3 minutes.
Remove skillet from heat; stir in vinegar, mustard and sugar. Add bacon and gently stir; spoon over kale and toss well. Allow salad to sit for 5 minutes; add eggs and serve. Yields about 3/4 cup shrimp with broccoli and 4 teaspoon breadcrumbs per serving.
Serving size: 2 1/2 c salad
Kale salad with warm bacon dressing
Weight Watchers
15 Minutes
15 Minutes
Thanks to the warm sautéed vegetables and homemade dressing, this salad tastes decadent, but is simple to make.
lunch, dinner
<%--
Japanese
--%>
Get more recipes