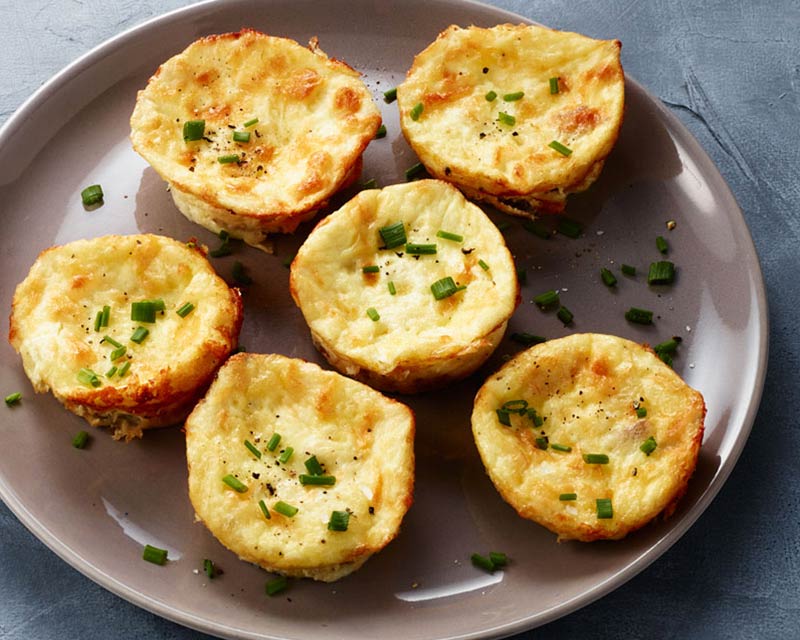 Get more recipes
Mini crustless turkey bacon and onion quiche
2 - 3
PersonalPoints™ per serving
50 min
Prep 15 min
Cook 35 min
Serves 12
Ingredients:
Cooking spray

2 spray(s)

Olive oil

1 tsp

Uncooked onion(s)

1 small, minced

Cooked turkey bacon

4 slice(s), crumbled

Egg(s)

2 large egg(s)

Egg white(s)

2 large

Low-fat milk

1 cup(s)

Half-and-half cream

½ cup(s)

All-purpose flour

1 Tbsp

Table salt

¼ tsp

Black pepper

⅛ tsp

Gruyère cheese

2 oz, shredded (about ½ cup)

Chives

1 Tbsp, chopped
Instructions:
Preheat oven to 350°F. Coat a 12-hole muffin pan with cooking spray.
Heat oil in a small nonstick skillet over medium heat. When oil shimmers, add onion. Cook, stirring, 2-3 minutes, until translucent. Divide onion and crumbled bacon among prepared muffin cups.
In a blender, combine eggs, egg whites, milk, half-and-half, flour, salt and pepper until foamy, about 20 seconds. Pour about 3 Tbsp egg mixture into each muffin cup; sprinkle each with about 2 tsp cheese.
Bake until puffed and lightly browned, 25 to 30 minutes. Serve warm or at room temperature sprinkled with chives (note that quiches will sink as they cool).
Mini crustless turkey bacon and onion quiche
Weight Watchers
35 min
15 Minutes
This easygoing quiche dish is fantastically simple. It takes just 15 minutes to prepare before going into the oven.
breakfast, brunch, snack
Get more recipes